REVIEWS for Spruce Moose Lodge Bed & Breakfast, North Conway, NH B&B . White Mountains


If you'd like to leave a review, we prefer you post on Google Reviews. We Appreciate it!! Thank You!

We also grabbed a few reviews for our bed and breakfast from some of the popular travel sites:
10/10 Hotels reviewer
Best two nights sleep Ive had in years. Completely relaxing. quiet, comfortable sleeping room and living room. Like being at home without the chores and a wonderful breakfast each morning. Great location since its just a few blocks from everything downtown.
Kevin L
5/5 Google reviews
Great place, very clean. Roger's Retreat was perfect! Quick 10 minute walk into town. Nellie and Leon were extremely hospitable. We'll definitely be back!

thornlord3
5/5 Google reviews
Very clean, excellent location. Pet friendly. If you want to bring your pet, this is absolutely the place to go.

10/10 Hotels reviewer
We had a great stay, the breakfast was awesome. The owners Nellie and Leon were gracious and attentive. Would stay there again.

Lilyan J
5/5 Google reviews
Great couple running it nice room.Great Breakfast highly recommend it

Mike A
5/5 Google Local Guide ・148 reviews
Leon and Nellie could not be more welcoming and helpful. The location is great for the North Conway scenic railway and restaurants. The breakfast is delightful and sets you up for the day. The home cooked snacks are simply heavenly.

5/5 Expedia reviewer
I loved the moose decorations everywhere! Nellie and Leon were so hospitable. Our stay felt very homey and pleasant. The breakfast was great and we had a wonderful time.

5/5 Expedia reviewer
Nellie is such a warm and welcoming innkeeper at this cozy little bed and breakfast! We stayed in the Kimball room and were perfectly comfortable. The inn is less than a 10 minute walk from the main shops and several delightful restaurants.

5/5 Expedia reviewer
Perfect New England hospitality! Super cute property with sparkling clean rooms, cosy room to relax in front of the fire in, and friendly hosts who cook up a tasty breakfast! Highly recommended! A short walk/drive to most things in town.

10/10 Hotels reviewer
Cottage was ADORABLE! Spacious, clean and quaint. Everyone was very, very, very welcoming of pets. Pierce Cottage was all decorated in a Labrador theme. Nearly all the conveniences of home.

Clay S
5/5 Google reviews
it was 2 years ago I was here, small and friendly place. easy to find, close to town but on a side street off the main road. the hosts were sweet and helpful. I would stay there again

5/5 Expedia reviewer
I enjoyed my stay very much. The inn is very quaint and inviting and the rooms were clean and comfortable. Nellie and Leon were very hospitable.

Laurie H
5/5 Google reviews
We had a great stay for a couple of nights in one of the cottages. We were very pleased with the room. It was cozy and warm. Close to anything you could want to do. Breakfast was a nice special touch. Nellie and Leon were so kind.

KIM R
5/5 Google reviews
it was our first stay at Spruce Moose Lodge, we will be going back. Nellie and Leon are awesome they thought of everything. You feel more like you are visiting old friends everything right down to how they make and serve you breakfast.The 3 dogs are super friendly and very cute

10/10 Hotels reviewer
Spruce Moose was great! Nellie & Leon were welcoming, warm and caring - they cant do enough to make your stay comfortable and fun. We stayed in a bungalow with a jacuzzi & gas fireplace, and the bed was very comfortable.

Robert EP
5/5 Google reviews
Leon and Nellie are perfect hosts. I felt welcome the moment I stepped into the Lodge. I stayed just overnight in Lucy's room and all the honey touches made it perfect. Looking forward to my next visit!

10/10 Hotels reviewer
The innkeepers were very accommodating to our requests for a day room while in North Conway for a day trip. Our request was a bit unorthodox, but they took it in stride.

5/5 Expedia reviewer
Fantastic hosts...nice clean room...fabulous breakfast.....can heartily recommend!

5/5 Expedia reviewer
Such a lovely b&b! The owners are very nice and accommodating! We will definitely be back!

5/5 Expedia reviewer
It was very homely and nice to stay somewhere ran by a couple instead of a cooperation. The couple were very caring and they had three very nice dogs that made the stay even more enjoyable.

Lisa B
5/5 Google reviews
I can not Wait to go back! Absolutely Love this place! I felt so comfortable it really felt like home. Felt so wonderful to play with there dog's who are exstremly loving and friendly. I will be back.

5/5 Expedia reviewer
It was very clean and charming. The owners were extremely nice and accommodating.

Laura C
5/5 Google reviews
Nellie, Leon, and doggies are so friendly. The atmosphere and rooms are so comfortable. Breakfast is delicious. Definitely booking again next summer. Thanks again for a wonderful weekend.

10/10 Hotels reviewer
LOVED IT...LOVED IT...LOVED IT!!! Loved my ROOM.... LOVED Avery, Jed & grumpy Lily...Smile... LOVED the Hosts! Loved meeting Fellow Travellers! Loved being able to walk ONLY 10 mins into North Conway Village!!! DO VISIT...SMILE

Susan J
5/5 Google reviews
The Spruce Moose Lodge is a lovely place to stay with the most welcoming family of five (Nellie and Leon, along with their amazing three dogs). We had a delightful time chatting over a delicious breakfast while surrounded by much warmth.

Mark LeB
5/5 Google reviews
Quintessential New Hampshire B & B! pet friendly...3 nice dogs greet you when you arrive. Impeccably clean and flawlessly decorated in a mountain lodge style. Quiet surroundings but just 7 minutes of walking to the busy White Mountain …

10/10 Hotels reviewer
Overall the stay was wonderful. Nellie and Leon (and their dogs Avery, Jed, and Lily) were all super friendly and great hosts. We stayed in Paddys Hideaway which is a quiet building separate from the main house. It was quiet and peaceful. …

Ed M
5/5 Google reviews
We've stayed before at this location, and returned for two nights this summer when our schedule permitted it. We brought our dog along, which is fun, and found the cottage much as we remembered it (though with some cosmetic improvements). …

5/5 Expedia reviewer
Nellie in the lodge was so sweet and friendly, the location cant be beat, and the privacy and space of the cabin was great. We walked to the train, walked around town, and was able to bar hop our way back to the lodge. I didnt realize …

Steve F
5/5 Google reviews
Been going here for 15 years and is always a great place to stay. Close to town and comfortable cabins that are pet friendly.

5/5 Expedia reviewer
Great location, great hospitality, best breakfast in new england

Jacqueline T
5/5 Google reviews
We stayed in the Smith cottage- for a place that is very obviously dog friendly, it was SO clean! No fur or stink at all! The cabin is very comfortable and homey, great for a relaxing weekend. We stayed with 3 adults and one baby and had …

Allen B
5/5 Google Local Guide ・279 reviews
I cant say enough of this place i loved it and go back a couple times a year the hosts are so extremely nice and the breakfast is great

Debbie C
5/5 Google reviews
I have been staying here for 13+ years and consider this my 2nd home. Quaint, clean, cozy and you can't beat the fabulous location to skiing, hiking, fabulous restaurants, outlet shopping and spectacular mountain views. Very accommodating …

Lazaros P
4/5 Google reviews
wonderful people homemade breakfast excellent definitely I'm going back again

Nick A
5/5 Google reviews
Nellie and Leon are wonderful caretakers. Our room (and the lodge in general) was clean and cozy like home. The lodge is just outside of town, which makes for an easy walk when you want to go in but is still far enough away to avoid much of the traffic.
This was my second stay, and I'm looking forward to my third!

Deborah S
5/5 Google reviews
Wonderful owners. Very friendly and caring. They say animals reflect their owners. Their 3 dogs were very loving and obedient. The owners altered their breakfast schedule to meet our needs.

5/5 Orbitz reviewer
Lovely little gem. Sweetest hosts, lovely breakfast and comfortable accommodations. This pet friendly lodge was quite the find. I look forward to returning with my husband and dog. Great location and there are many amenities around.

Sean B
5/5 Google reviews
This is a nice little place that exceeded expectations. The owners are pleasant, personable, and they had great blueberry pancakes for our morning breakfast. Getting into that more personal environment, you engage the other guests more too, …

Autumn R
5/5 Google reviews
The hosts are wonderful, and so are their lovely pups :) Cannot wait to go back! Breakfast was wonderful and it felt like we were eating with family. Just such a warm, welcoming atmosphere. Very close to the village of N.Conway and all the …

Brandon
5/5 Google reviews
I really enjoyed my stay at the Spruce Moose! It's a great inn with the nicest, most friendly inn keepers! They really put their customers first and made sure we were enjoying our stay! The rooms were very clean and warm. The breakfast was one of the best breakfasts I've had in a while. I highly recommend the Spruce Moose!

8/10 Hotels reviewer
Very nice stay with Nellie and Leon who were friendly and helpful, really nice people! Bed was super comfy, nice breakfast each morning, good location. The only thing we would have liked was a TV in our room to catch the morning news.

Paul MMcK
5/5 Google reviews
A beautiful bed and breakfast owned by wonderful people nestled quietly and within walking distance to downtown North Conway. The perfect place for family, friends, and couples to enjoy all the seasonal beauties that northern NH has to …

Victoria Z
5/5 Google reviews
Nellie & Leon top the charts as Innkeepers. I am an avid motorcycle traveler and have stayed with them numerous times over the last several years. Their B&B is comfortable, welcoming and clean with wonderful breakfasts each time I visit.

5/5 Orbitz reviewer
Best of everything. Nice clean rooms. Great innkeepers. Good breakfast and cookies in afternoon or evening.

bobbie t
4/5 Google reviews
Great place to stay rented the little house. Private lots of room. 3 bedrooms. Beds where a little uncomfortable needed to be upgraded.

5/5 Orbitz reviewer
Nellie and Leon were fantastic innkeepers! We really enjoyed our stay at this beautiful, dog-friendly inn. The rooms were clean and had good amenities, the breakfast was delicious, and the lodge was in a great location for our visit to North Conway - what more could you ask for?

Mary L
5/5 Google reviews
We've stayed many times over the past four years, including two trips during the Ghost and Goblin tour. It's always been a wonderful time. The rooms are unique, clean, and cozy, and the breakfast has always been amazing. The inn keepers …

5/5 Orbitz reviewer
Owners are super wonderful people. They have the sweetest polite dogs, too! The owners altered their schedule to accomodate our needs for breakfast. The breakfast wete not only fresh but palate tickling.

Heather S
5/5 Google reviews
The property is quiet and nicely maintained by the friendly staff. We stayed in one of the cottages with our dog for a long weekend which was very relaxing. There is plenty of parking, and access to a gas grill. Close to shopping, dining and outdoor activities.

*** FOR the BEST OPTIONS, CALL US or use OUR WEBSITE to BOOK YOUR STAY ***

The other travel sites DO NOT have the BEST PRICE or up-to-the-minute information!
For Quick & Easy Reservations, Click The BOOK IT NOW Button!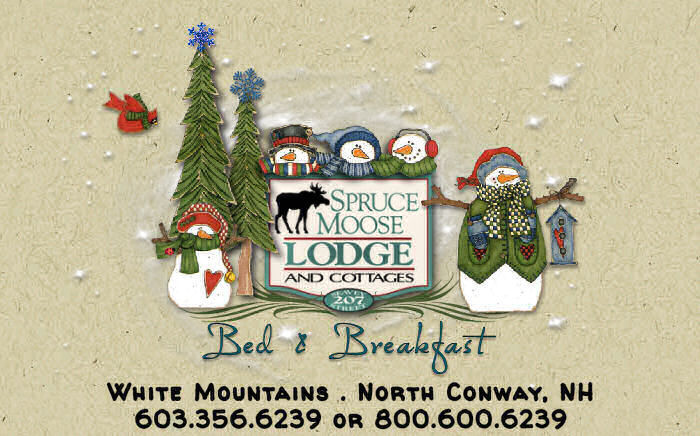 Web & Graphic Design by Bizz Z Turtle

Copyright © Spruce Moose Lodge Bed and Breakfast . North Conway . New Hampshire . USA . All Rights Reserved