Spruce Moose Lodge Information, Rates, Amenities and Policies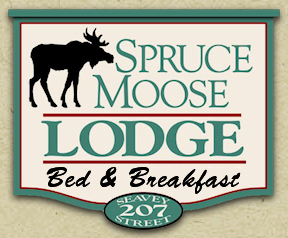 The Spruce Moose Lodge Rooms, Cottages and Jacuzzi Apartments are furnished with two twin beds, a full bed or a queen-size bed, sitting chair and a private bath. All rooms have individual air conditioning units for your own comfort level. All our Lodge guests receive complimentary toiletries and lotions.
Leon & Nellie whip up a Full Country Breakfast for their Lodge and Jacuzzi Cottage guests each morning. You'll really enjoy our wonderful, tasty, delightful meal!
Spruce Moose Lodge B&B is Located at the Top of the Hill on Seavey Street in North Conway, NH




Need Directions? ==> Click Here for Full Map.

North Conway Village shops and the outlet stores are at the bottom of the hill.
We're a quick five-minute walk, down Seavey Street to the North Conway Village shops
and restaurants and Schouler Park.
It's only a (5) five-minute drive to the outlet areas.

Our Rates Vary, Per Accommodation and Season:

STANDARD RATES: Weekdays: $99 to $225 and Weekends: $109 to $275.

FOLIAGE and HOLIDAY RATES: $119 to $299.
Some discounts may be available during most seasons. (Only one discount per booking.) All rates subject to change without notice.

TAX: All rates are subject to an 9% New Hampshire rooms and meals tax.

DOGS ONLY: We charge $10.00 per night per dog. Dog Dish information page on Pet Policies.

PARKING: Guests may unload luggage at the front door. Parking is provided on Spruce Moose Lodge grounds.

RESERVATION & DEPOSIT POLICY: A valid credit card is required for all reservations.

NO SMOKING! We DO NOT allow smoking inside any of our buildings!

DON'T PICK OUR FLOWERS! Our gardens are for all to enjoy.

CANCELLATION POLICY: There is a $25 processing fee when you cancel your reservation. If you cancel between 7 to 21 days prior to arrival, there is a 50% refund. There is No Refund if you cancel your reservation within 7 days of your arrival. You can reschedule your reservation without a penalty.

PAYMENT METHODS: We accept cash, and credit cards, but we do not take checks.

ACCOMMODATIONS: Best suited for Adults, Children 12+ and Dogs. If you are traveling with a young child, please call before booking!

CHECK IN TIME: IMPORTANT: Please check in between 3 pm & 7pm! This really helps us out a lot!
If you are going to be late, Please Call us to let us know what time you will be arriving.

CHECK OUT TIME: 11 a.m. We need time to clean your room for the next guests!
Late check-outs can be negotiated for a fee. Our late fee is $25.

ONLINE RESERVATIONS: Click on the "Book It Now" button to make your reservations. If you have questions about our rooms, Please Click on 'Reservations' link. We will contact you to answer all your questions and take your credit card information afterwards.
Disclaimer - From time to time we find and recommend products, services and local venues that we believe will benefit our visitors and guests. Some of the links are affiliate links. Some are not. We do NOT share any private info you give to us! Ever! We just love a great deal and want to save you money and help make your stay even better!

COMMONLY ASKED QUESTIONS:
How far is Spruce Moose Lodge and Cottages from the airport?
Portland International Jetport (PWM) is 60 miles away.
There are 2 ways to get from the Portland Airport to North Conway:
The easiest is by rental car. You'll need it to get around up here!
If you choose to go via bus, Concord Coach Lines drives directly to North Conway.
Can you bring pets to Spruce Moose Lodge and Cottages?
Are pets allowed at Spruce Moose Lodge and Cottages?
Yes, Spruce Moose Lodge and Cottages is a Dog-friendly bed and breakfast.

Is parking available at Spruce Moose Lodge and Cottages?
Yes, we have two large parking lots on our estate.

Where is Spruce Moose Lodge and Cottages located?
We are located in North Conway, New Hampshire, United States of America.

Is Spruce Moose Lodge and Cottages located near the city center?
We are only a 5 minute walk strait down Seavey Street to the North Conway Village shops, restaurants and Schouler Park. It's only a three-minute drive to over 200 outlet shops.

Are there any historical sites close to Spruce Moose Lodge and Cottages?
Which popular attractions are close to Spruce Moose Lodge and Cottages?
A local favorite is Zeb's General Store, Conway Scenic Railroad, TAX FREE Factory Outlet Shopping at Settler's Village, Cranmore Mountain and Echo Lake State Park. Check out all attractions on our ==> Activities Page

When is check-in time and check-out time at Spruce Moose Lodge and Cottages?
Check in time is between 3pm to 7pm. Checkout is 11am.

What food & drink options are available at Spruce Moose Lodge and Cottages?
We serve a full country breakfast every morning. Coffee & Tea and snacks are available throughout the day.

What are some restaurants close to Spruce Moose Lodge and Cottages?
We have many, many different types of eateries that will please everyone who visits North Conway Village!


FOR the BEST OPTIONS, CALL US or USE OUR WEBSITE TO BOOK YOUR STAY.
The other travel sites DO NOT have the BEST PRICE or up-to-the-minute information!