Activities around the Village of North Conway
For over 200 years, people from around the world have been coming to the village of North Conway for its beauty and quaintness. Nestled in the heart of Mount Washington Valley, this wonderful New England town boasts breath taking views of Mount Washington standing in the background. Our fabulous Main Street antique and gift shops are just down the street. We're a five-minute walk down Seavey Street to the North Conway Village shops, restaurants and Schouler Park. It's only a three-minute drive to over 200 outlet shops!


When you enter our lovely village from the south, Mount Washington appears right in front of you. This wonderfully historic stretch of North Conway village is lined with history and nearby covered bridges.

North Conway village is an attraction all by itself. There is plenty to do without having to get into your car. The streets are lined with every type of handmade craft, antique and specialty shops! You will delight in browsing around the village,and enjoy our many great eateries.
Need a quick break? Be sure to rest on one of Schouler Park's benches under a beautiful maple tree. Across from the park is our Conway Scenic Railroad. Millions of people have taken the site seeing tours on this railroad. It is a wonderful adventure for the whole family. Built in 1874, the railroad station reflects the turn of the century, small town feel that our North Conway village is known for. Also in the town, you'll find North Conway Country Club, a championship 18- hole golf course with absolutely breath-taking views at every hole.

SHOP TAX FREE in North Conway, New Hampshire! There are over 60 name-brand, first quality factory outlet stores located at Settlers' Green Outlet Village -- a true shoppers paradise!
So, when planning your next vacation, you must come visit the Mount Washington Valley and of course, stay with us at the Spruce Moose Lodge B&B, just a couple minutes walk from North Conway Village. There is always plenty of fun things to do here!
Commonly know as the White Mountains, this is one of the most sought-after locations for Hiking, Skiing, and Mountaineering routes in the Northeast! Mount Washington is the highest peak in the Northeastern United States. There are 48 peaks within New Hampshire!
Gorgeous Landscapes in Spring and Summer. Breathtaking Fall Foliage. Awesome Winter Skiing!


AWESOME FALL FOLIAGE!!!

Every Season has spectacular sights and fun-filled events to enjoy!
Come experience what Spruce Moose Lodge in North Conway has to offer.
From Hiking to Skiing to Site-seeing to Shopping, you are sure to find something for everyone.



Mount Washington Valley is filled with brilliant days and lovely nights. Nestled in the White Mountains of New Hampshire in North Conway, Spruce Moose Lodge is an awesome place to stay because of our close proximity to hike, sight-see, take a train ride, shop the wonderful boutiques on Main Street and roam through the large warehouse outlets a few miles away. Come to relax in our cozy rooms. Meet other travelers in our Great Main Lodge!
Come experience what the Mount Washington Valley has to offer!
With so many activities covering Everything Your Heart Desires, you are sure to have such a great time and create wonderful memories while visiting the White Mountains of New Hampshire all year 'round!
== CLICK EACH STICKER ON THE CASE ABOVE FOR MORE INFO! ==
*** FOR the BEST OPTIONS, CALL US or use OUR WEBSITE to BOOK YOUR STAY ***

The other travel sites DO NOT have the BEST PRICE or up-to-the-minute information!
For Quick & Easy Reservations, Click The BOOK IT NOW Button!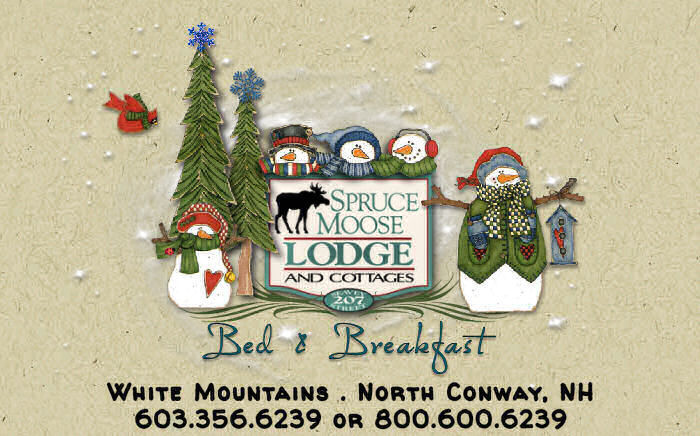 Web & Graphic Design by Bizz Z Turtle

Spruce Moose Lodge Bed and Breakfast . North Conway . New Hampshire . USA . All Rights Reserved