Spruce Moose Lodge Bed and Breakfast Lodge Rooms
Our B and B has two wings in our main building.
Our historic 1890's Lodge has eight (8) beautiful rooms. They are located in two wings, which is separated by our spacious Spruce Moose Great Room. One side is the Spruce Wing and the other side is the Moose Wing. All of our rooms are the actual size of years past, and decorated in a vintage style. Since our B&B is an original 1890's building, please be aware that the rooms in the lodge are on the smaller size. You'll feel relaxed in any one of them. Some are perfect for a romantic getaway, while others are more suited to families or single travelers. Both wings at the Spruce Moose Lodge are air-conditioned and have private bathrooms. A country breakfast is served every morning in our dining room. Leon really enjoys cooking for our guests! We know you will really enjoy your meal, which will get your day off to a great start! The idea is to sleep comfortably, have a yummy breakfast, then seize the day with adventures in the White Mountains and North Conway Village, New Hampshire!
Click the photos below to view our rooms.

The Spruce Wing - 1st Floor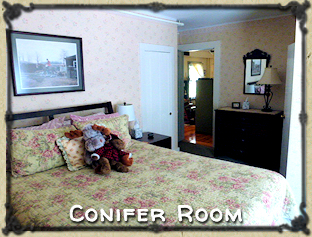 The Spruce Wing of the Lodge has two floors.
The Spruce Wing has 2 rooms on the first floor and 3 rooms on the second floor. Kimball's Room and the Conifer Room, are located on the first floor of the Lodge. They each have a queen-sized bed. Kimball's Room opens directly onto the Lodge's lovely old-fashioned front porch.
The Spruce Wing - 2nd Floor

The newly renovated second-floor accommodations in the B&B lodge include The Garland Room, which has a queen-sized bed, and the Radcliff and Audubon Rooms, both have a pair of full-sized beds.


The Moose Wing - All on the 2nd Floor


The Moose Wing at the B&B lodge has three lovely rooms. Lucy's Room, The Everett Room, and The Lamont Room. All the rooms have been newly updated, but still vintage looking. Please note that back in the late 1800's, they built bedrooms quite small. Two of these rooms has a full-size bed, which is perfect either for individual travelers or for couples. The Lamont has two twin beds.

*If you are traveling with a large family or group of friends, the Moose Wing would be just perfect if you'd all like to stay together in the lodge's bed and breakfast. The Moose Wing is located up a stairway off our wonderfully redesigned old-fashioned Great Room.
*** FOR the BEST OPTIONS, CALL US or use OUR WEBSITE to BOOK YOUR STAY ***

The other travel sites DO NOT have the BEST PRICE or up-to-the-minute information!
For Quick & Easy Reservations, Click The BOOK IT NOW Button!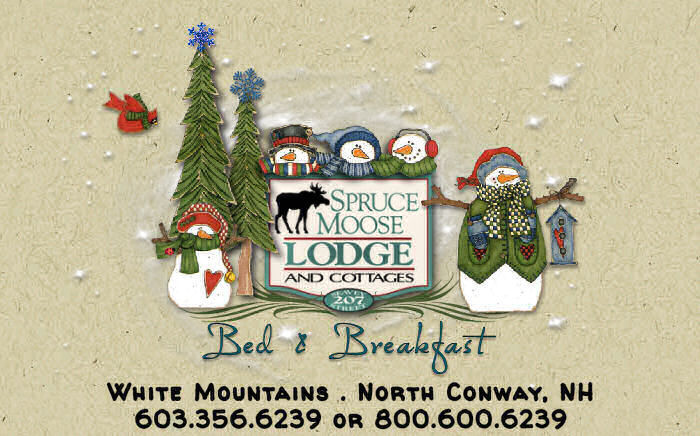 Web & Graphic Design by Bizz Z Turtle

Copyright © Spruce Moose Lodge Bed and Breakfast . North Conway . New Hampshire . USA . All Rights Reserved